Br Prabuddhamrita Chaitanya, was a remarkable person who made a significant contribution to our Ashram spiritual community. He was an individual who wore many hats, and his multifaceted personality was a source of inspiration for many.
Br Prabuddhamrita was an ardent lover of arts, music, and literature. He was a gifted singer and had a vast collection of traditional Nampootiri jokes. He had a quick wit and always had a smile on his face, which would light up any room he entered. He was a great cook and had a deep passion for the culinary arts. He would often prepare meals for those around him, and his food was a testament to his love and care for others.
Br Prabuddhamrita was a skilled astrologer and had a remarkable ability to predict events with great precision. He was well-versed in various methods of pujas and homas and was a respected priest by the devotees of Amma. His knowledge of Vedic traditions was vast, and he was always willing to share his insights with others.
Br Prabuddhamrita, disciple of Amma, was intitated Brahmacharya Deeksha 3 years ago. As the main priest, he played a crucial role in the installation of many Brahmasthanam temples. His unwavering devotion to Amma was evident in everything he did, and he inspired many with his selfless service and dedication.
Today, he is no more with us in physical form. The last time I met him was yesterday during evening tea time, where we shared jokes and laughed out loud. Br Prabuddhamrita Chaitanya, who left us so suddenly, will be deeply missed. However, his legacy will live on through the lives he touched and the work he accomplished. May he find eternal peace and rest in the loving embrace of Amma's lotus feet.
Om Shanti.
15 Mar 2023
---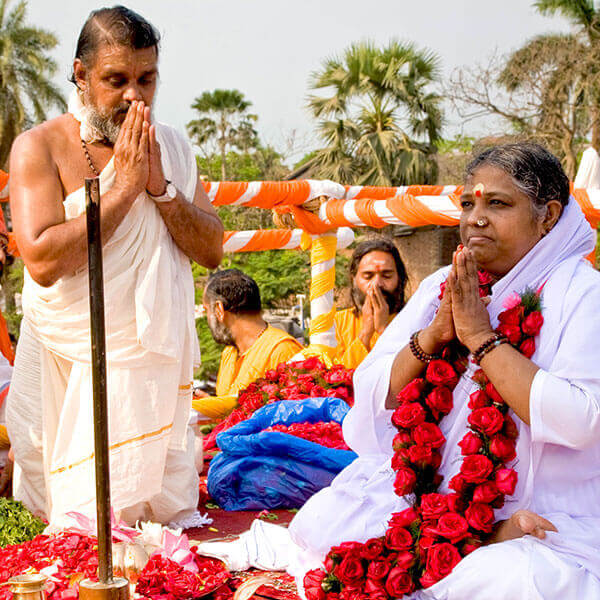 In memory of Br Prabuddhamrita Chaitanya
A man of many talents, a devotee of Love
His name was Prabuddhamrita, sent from above
With a heart full of passion, and love for Amma
He walked this earth, with a purposeful drama

An astrologer wise, a priest with devotion
His knowledge vast, with a sacred notion
He predicted the stars, and saw the unseen
His insights always true, like a dream

He sang sweet songs, his voice so clear
And played with joy, all without fear
He cooked with skill, his culinary delight
And told jokes that would light up the night

He cracked so many jokes, with a twinkle in his eye
And enjoyed them just as much, with a gleeful sigh
He had a stock of humor, traditional and new
We laughed our hearts out, with him, it's true 

His jokes brought us together, in a shared delight
And in those moments, everything felt right
We'll always remember, his playful heart
And the way he made us laugh, right from the start. 

He had a deep love, for classical art forms
Kathakali and Chakyar Kooth, his heart would warm
He appreciated their beauty, with a keen eye
And his analysis, would leave us in awe, oh my! 

His dedication immense, his service selfless
A friend to all, he never left us helpless
He stood by Amma, with unwavering love
Like a courageous tiger in the cove. 

Now he has left us, to join Amma above
His spirit remains, as a symbol of love
We will always cherish, the moments we shared
And remember his kindness, with hearts that cared. 
~Dhyanji