we all celebrate our birthdays as our special day in life. but there is a really special birthday. it's not about a person but it's about a book! yes. there is only one book in the world who's birthday is celebrated – that is Bhagavad Gita as Gita Jayanthi. this year's Gita Jayanthi falls on 18th of december (shukla paksha ekadashi of margashirsha). this is the day Sri Krishna Himself revealed secrets to arjuna about Himself and about the world in the battlefield of Kurukshetra.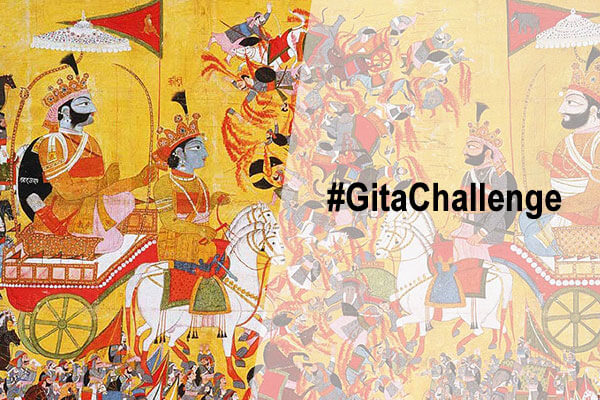 #GitaChallenge
on the occasion of 'Gita Jayanthi' let us spread the awareness of 'Gita 4 Life' by being a part of '#GitaChallenge'. pick up any one sloka of your liking from the 700 slokas across 18 chapters of Gita. chant the sloka and say its meaning. along with if you can share your experience of how that particular sloka has helped/ guided/ transformed you in your life, by narrating the actual situation or problem. it should not be more than 3 minutes. recored the video and share it on social media with a hash tag #GitaChallenge. participate whole heartedly with a spirit of spreading the happiness which is shown by Bhagavad Gita.
also challenge your friends, teachers, parents, boss, leaders etc.
if you know any vegetable vendor, riksha wala, taxi wala, any karma-charis knows Gita, ask them to chant, record that and post it on your social media accounts. in that way anyone who knows gita become the pracharaks of gita. they tell the world how they have transformed. be an instrument of transformation in the hands of the Lord.
see more from here.