28 feb, bharata yatra 2008, pune
pune was dusty. it was very cold at night. at about 2 am. the temp suddenly dropped below 14 degrees. the small wind that blew across the ground made it worse. still people withstood the climate for darshan. the warmth of amma's love was covering them.
after sunrise, when the darshan was coming to a close, the devotees of pune came with a cake saying happy birthday. but whose birthday? they said it was amma's birthday. about 10 or so children wearing happy birthday conical paper hats and streamers in hand were standing behind amma. when an old devotee came and put the hat on amma, all sang happy birthday to amma. they asked amma to cut the cake. there was a big celebration.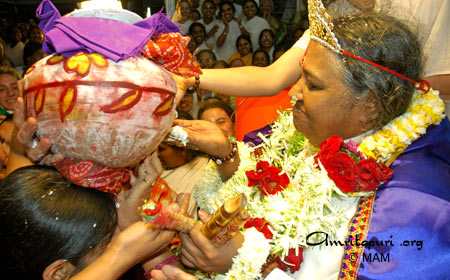 was amma's birthday on 27th feb?
may be.
or sep 27th?
may be.
or any other date?
…..
who knows god's birthday?
the day you meet god is the birthday of your god. it's your birthday too.
when is your birthday?