24-27 jun 2012, amrita vidyalayam, new delhi
it was not really a 'warm' welcome, but a 'hot' welcome at delhi. when amma asked me to go to delhi for the children's camp i never expected this kind of welcome. they say it is the highest temp in the last 30 years! even at 12'o clock at night if you sit on the first floor, your butt will burn. the water running through the tap at the same time is also equally hot. i am talking about night 12'o clock .. ok?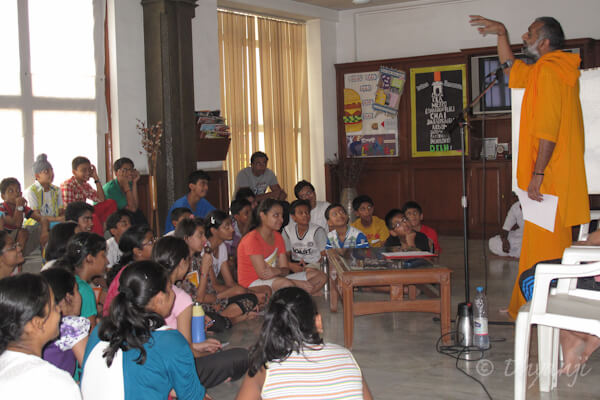 how to conduct a camp at this temp for children, that too residential one, for 3 days? thank god there was an ac room even though it didnt had much effect. still it made a difference – at least you dont sweat.
the children were wonderful. it was a tough task to deal with the kids of 4th to 10 standards in one class. but to my surprise the children were very attentive and i could feel that they are travelling along with us. we discussed about beauty, love, happiness, the goal of life, commitment, caring, sharing, along with yoga and meditation. the games mukeshji had with the kids were very inspiring. nijamritaji and my self were really enjoying the company of kids. the children also had adventure games like wall climbing and rappelling etc. we also joined.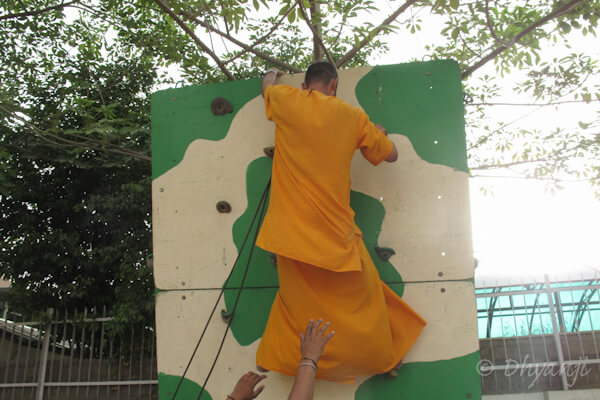 there was special session of talks, games and competitions to be positive always.
at the end the camp was a very transforming one. many children came up and spoke on the mike saying that their life will not be the same any more – they will be happy and caring for others.
what else you need from a camp of kids?
~ dhyanamrita