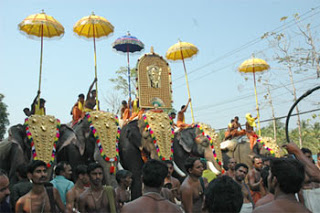 2nd leg of the Bharata Yatra started. We were passing through Trissur District on the way from Amritapuri to Mananthavadi. Now its the time of festivals in Kerala. Especially in Trissur, which is a land of temples, elephants and festivals. We saw a lot of temples and celebrations.
The area around the temples is divided into eight segments. From each segment people will come in a procession with elephants, drums, cultural art forms, folk arts, and girls with lamps and flowers. They all merge in the temple, where there will be fireworks, panchavadyam, panchari, pandi melams (different types of traditional percussive arts). The best performance section is awarded.
We waited on the road for about 30 minutes for clearance. There were five elephants with a procession blocking the whole road. After few minutes we got through, but came to another place where there were seven elephants with drums. We could not pass through or take a deviation, so we found ourselves stuck between 12 elephants on the road. After a set of performances was over they let us go.
25 February 2007
enroute Amritapuri to Mananthavady