1 jan 2007, amritapuri
a kathakali performance was staged at the ashram in amritapuri to honor sugunanandan, the biological father of amma, sri mata amritanandamayi devi, when he turned 80.
he used to perform kathakali in his youth. krishna was his favorite character.
this kathakali story was of sri krishna, devaki and yasoda about the mothers love for krishna.
devaki is sri krishna's mother and yasoda is his step mother.
when the curtain opens, devaki was wondering. "what am i hearing? sri krishna is coming back from vrindavan to mathura after long 14 years?"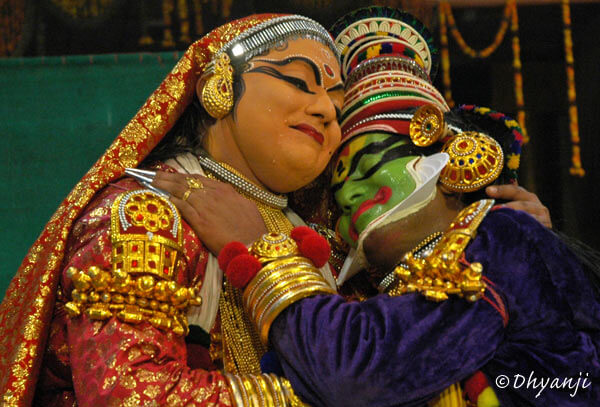 as soon as he arrives, krishna touches the feet of devaki. devaki objects saying that he is the supreme, paramatman. he should not do that. then krishna reacts saying that 'i am touching my mother's feet'.
devaki was in tears. she still looked sorrowful.
seeing this krishna asks "why are you sad? am i not back?"
"i am happy that you are back. but my sorrow is that i was not able to see your bala leelas. what to do? "
"aha for that there is a way out"
"what"
"yasoda ma is there who brought me from vindavan. she will tell the whole story"
krishna brings yasoda, she tells the childhood leelas of sri krishna to devaki.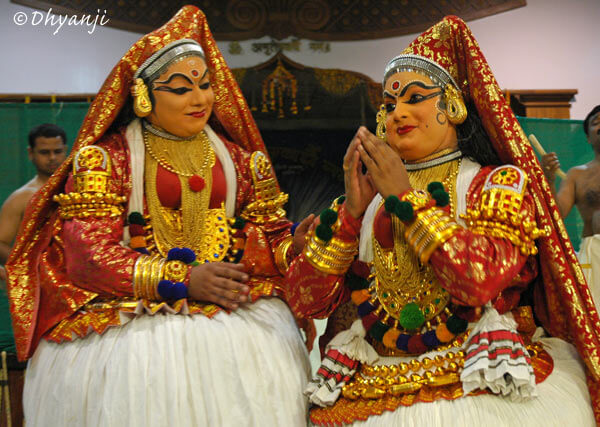 i think there was little modernization on this kathakali. it was very impressive. the actor was playing many roles.. yasoda as pootana, sakatasura, kaliya… but it was amazing. and the way krishna ate sand was out of this world. one moment it was from the stand point of krishna, next it was from the stand point of yasoda. she herself was acting what she felt as yasoda.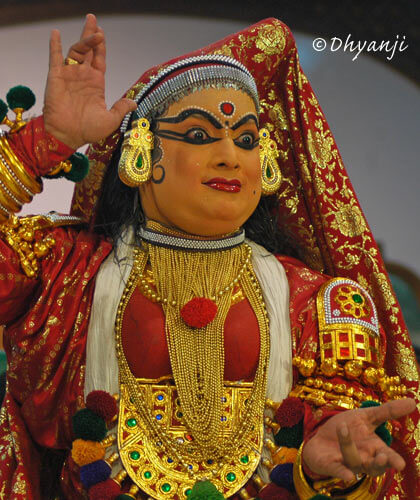 yasoda explained all the stories to devaki. it's time to depart. she hold krishna's hands and slowly looses the hands as the beats/music volume is reduced to silence. then…
she leaves and turns to hold krishna tightly to hug him.
what a moment of love!
then krishna says "amma, yasoda ma, you should not forget me. you keep safely all my toys.. all that i was playing with"
OOOHHHH!! it was too much. a total silence prevailed. a sense of fulfillment descended in every one's heart.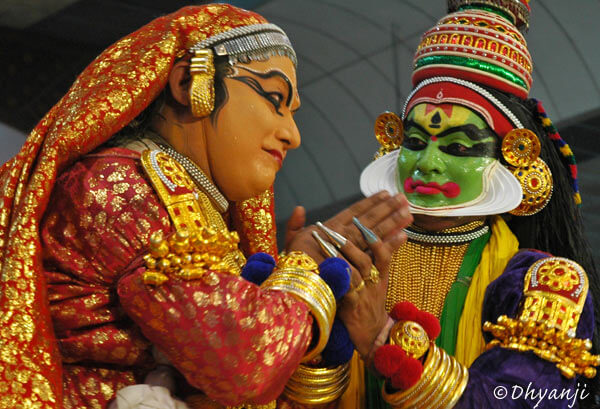 i have never seen any kathakali play like this in my whole life.
actually this story is not there in the purana. but, expanded on a line from srimad bhagavatam improvised according to the artists imagination without contradicting the original story, at the same time trying to highlight the value of motherhood. it was a very touching performance. kudos to all the artists.
every one was in tears. the characters, audience including amma.
usually the characters put teardrops or some thing to bring tears while they act. but here the characters were not leaving the stage and cried when the emotions were needed. i felt actually they were living the characters. and amma's presence gave such and additional ambiance. i too had a tough time in taking photos w/o tears filling the eyepiece of the camera.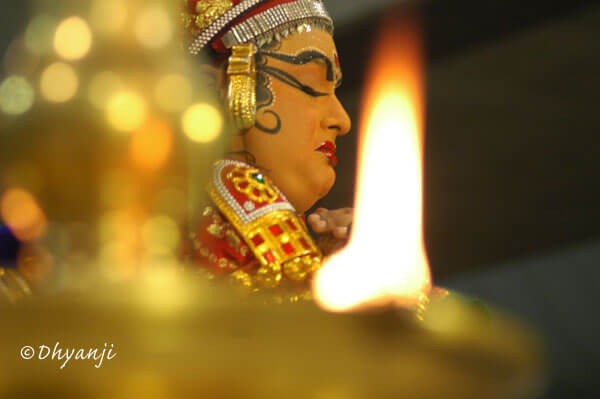 nobody realised how the time passed. it was two and half hours. very late for the regular ashram bhajans. its 7.30 now. never ever amma has delayed her daily bhajans. but this time, yes she did.
********
see more photos here