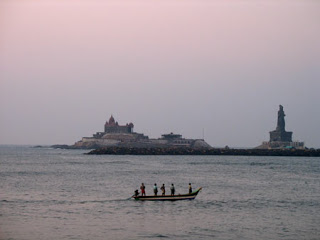 The trip from Ramanathapuram to Kanyakumari was interesting in the sense that you see the typical Indian villages and their life. You pass through the rice fields, sugarcane fields, bananas and coconuts then to barren lands. Then you come across small mountains. Then cultivation of fans. Yes big fans… Nagarkovil is the district in Tamil Nadu where the majority of electric production comes from wind. These fans are windmills. One of its three arms is more than 30 feet! In one rotation it produces one unit of current. The weather was terribly hot. We were tired when we reached Kanyakumari.
We stayed in a complex of Vivekananda Kendra. In the morning someone was knocking at the door. I opened my eyes. It was an atta bird knocking on the window glass. The bird woke me up. I saw a lot of birds in the ground through the window. The whole Vivekananda complex is beautiful. Very well laid out trees and houses, lawns and halls. On one side is the sea where you can see the Vivekananda Memorial Rock.
A place where nature will wake you up!
7 February 2007
enroute Ramnad to Kanya Kumari