21 Oct 2007, Amritapuri
it's always blissful during puja holidays. it didn't start just now. since my school days, it has been like that. even if you get two months vacation you are not as happy as during puja holidays. what is the great thing about puja holidays?
hey ! it's the only 3 days in your life you should not study!
from ashtami evening onwards everyone keeps their study books in the puja room as part of the ritual. you will start reading it only after the invocations on the day of vijaya dasami… that is after two days.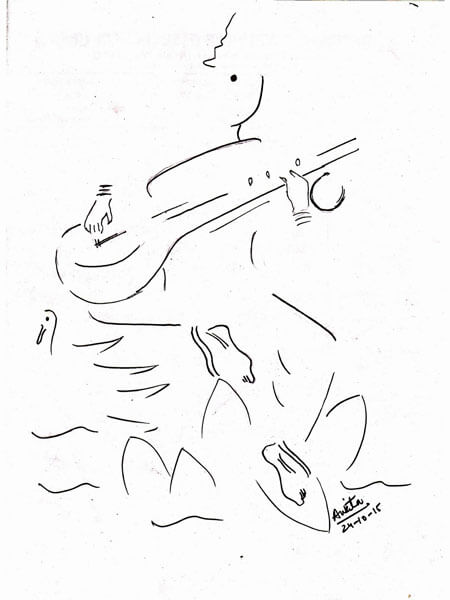 after coming to the ashram, whenever amma was here, she would lead the puja ceremonies. amma will instruct, we will write the alphabets again in the sand on the floor. that sand we will keep as sacred.
earlier, during vijaya dashami she gave away snannyas. amma gave me brahmacharya deekha on this day some years back.
this year amma was not in amritapuri. amma was in switzerland. over the webcast, still she was leading us in the chant
"saraswati namasthubhyam varade kamarupini,
vidyarambham karishyami siddhir bhavatu me sada."
सरस्वती नमस्तुभ्यं वरदे कामरूपिणी
विद्यारम्भं करिष्यामि सिद्धिर्भवतु मे सदा ||
devi herself is leading us to into knowledge, into bliss.
on vijaya dashami, after the ceremonies, i sat in-front of the altar and took a plate of rice and imagined that amma was instructing and i wrote again. the same alphabets… ॐ हरि: श्री गणपतये नाम: 'om hari sri ganapataye namah'.